JumpCloud is a cloud-based directory service that simplifies IT management for businesses of all sizes. Its platform allows IT administrators to manage user identities, access control, and device management in one place, regardless of the location or platform. JumpCloud's directory service is compatible with Windows, Mac, and Linux operating systems, and supports a variety of protocols such as LDAP, RADIUS, and SAML. It also integrates with popular cloud applications like Google Workspace, Microsoft Office 365, and Salesforce. JumpCloud provides secure authentication through its multi-factor authentication (MFA) capabilities and offers automated device management, making it easy for IT administrators to deploy and manage devices remotely. Overall, JumpCloud is a comprehensive directory service that streamlines IT operations for businesses.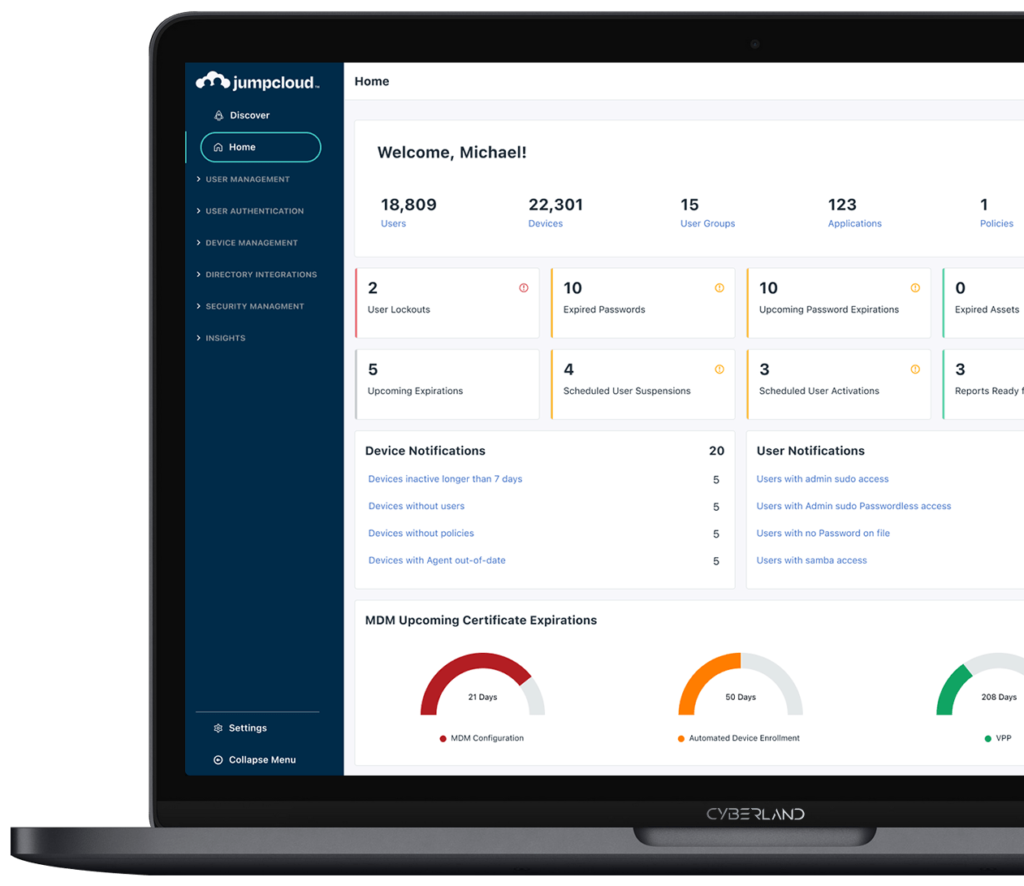 How JumpCloud Is Reimagining the Cloud Directory Platform?
JumpCloud changes the way IT administrators manage their organizations by providing a comprehensive and flexible cloud directory platform. Manage user identities and resource access, secure Mac, Windows, and Linux devices, and get a full view of your environment.
Cloud
Directory
JumpCloud's cloud directory is a central hub for managing user identities and access across an organization's various IT resources. With cloud directory, IT administrators can securely authenticate and authorize users to access applications, networks, and devices from anywhere. This eliminates the need for on-premises directory services and enables remote work and BYOD policies. Cloud directory also offers advanced features such as multi-factor authentication, single sign-on, and group policy management, providing a comprehensive solution for identity and access management. With JumpCloud's cloud directory, organizations can streamline their IT operations, improve security, and enhance user productivity.
Patch Management
JumpCloud offers patch management as part of its device management capabilities. With patch management, IT administrators can ensure that all devices in their organization are up-to-date with the latest security patches and software updates. This helps to prevent vulnerabilities and reduce the risk of cyber attacks. JumpCloud's patch management feature allows administrators to schedule and automate patching processes, reducing the amount of manual work required. Additionally, administrators can view a detailed patch history and status report for each device, providing visibility into the patching process. Overall, JumpCloud's patch management feature helps organizations maintain a secure and up-to-date device environment.
Multi-Factor Authentication
JumpCloud's cloud directory offers advanced features such as multi-factor authentication (MFA) to enhance security for user identities and access. MFA requires users to provide additional forms of authentication beyond just a password, such as a fingerprint or code generated by an authenticator app. This ensures that only authorized users can access sensitive information and applications, even if their password is compromised. JumpCloud's MFA is easy to set up and manage, and can be customized for different user groups and applications. With MFA in JumpCloud, organizations can significantly reduce the risk of data breaches and protect their sensitive information.
Password
Manager
JumpCloud's cloud directory also offers a password manager that helps organizations securely store and manage their passwords. With the password manager, users can generate strong, unique passwords for each application and website they use, without having to remember them all. The password manager also detects and alerts users to weak or compromised passwords, helping to prevent unauthorized access to sensitive information. Additionally, the password manager can be integrated with JumpCloud's MFA to provide an extra layer of security. With JumpCloud's password manager, organizations can ensure that their passwords are secure and easily managed, reducing the risk of data breaches and improving overall security posture.
Request Demo & More Information