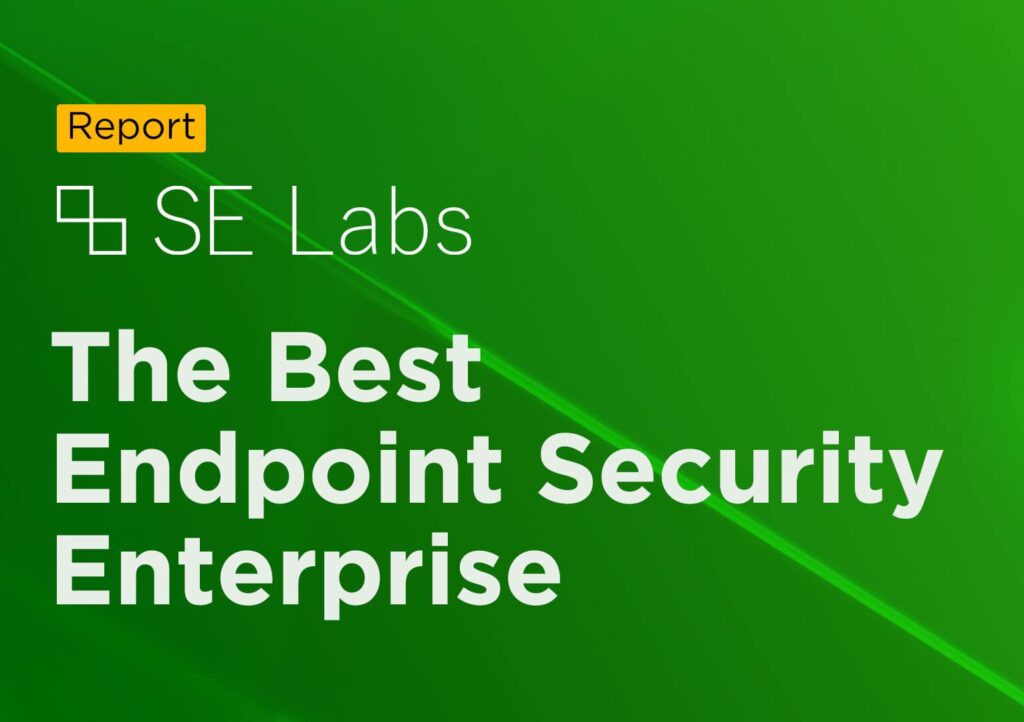 Endpoint security is a critical layer in protecting enterprise networks from cyber threats. As attacks grow more sophisticated, organizations need endpoint protection that can block advanced malware, ransomware, phishing attempts, and more.
In their latest evaluation of enterprise security suites, SE Labs tested 10 leading products on their effectiveness in handling both general and targeted attacks. I analyzed the report to determine the top endpoint security solutions for stopping modern threats.
Why Endpoint Security Matters
Endpoints like desktops, laptops, and mobile devices present a major attack surface for enterprises. If malware infects an endpoint, it can stealthily move laterally through the network to steal data and credentials. Endpoints are vulnerable for several reasons:
Users are a weak link – Through phishing, exploits, and social engineering, attackers can fool users into compromising endpoints. A secure endpoint prevents breaches from user mistakes.
Patching issues – Delayed patching leads to endpoints being vulnerable to new exploit techniques. Endpoint security can detect and block these unknown attacks.
Inadequate access controls – Overly permissive access leaves endpoints exposed if a user's credentials are compromised. Endpoints may also contain vulnerabilities attackers can leverage to elevate privileges.
Lack of visibility – IT and security teams often can't see infections or lateral movement once a device is compromised. Effective endpoints provide visibility through alerts and monitoring.
Modern endpoints face sophisticated, stealthy threats designed to evade detection. To stop hackers in their tracks, endpoint security needs advanced malware analysis, behavior detection, exploit prevention, and more.
How SE Labs Tested Enterprise Security Endpoints
SE Labs is an independent IT security testing organization based in the UK. They evaluated enterprise endpoint security solutions using a realistic model of how attacks unfold:
Multi-stage attacks – Each attack started from a realistic initial access point, like a phishing email or compromised site, and progressed through several stages. This fully tests the product's detection and response capabilities at each phase.
Real-world threats – In addition to staged attacks, products defended against real-world threats gathered from live malware, phishing kits, and exploit websites.
Targeted attacks – Sophisticated targeted attacks replicated advanced techniques like credential theft, lateral movement, data exfiltration and ransomware deployment.
Diverse test systems – Solutions protected a range of Windows 10 test systems to ensure consistent effectiveness across common enterprise configurations.
Mitigation testing – Solutions earned points for blocking and detecting threats. They lost points if malware compromised the system. Neutralized threats still incurred penalties.
Legitimate software – Solutions that blocked or misclassified legitimate software and websites were penalized so as not to reward overzealous detection rates.
This rigorous testing methodology evaluated each product's capacity to detect, block, and respond to realistic attacks of various types while properly handling legitimate actions.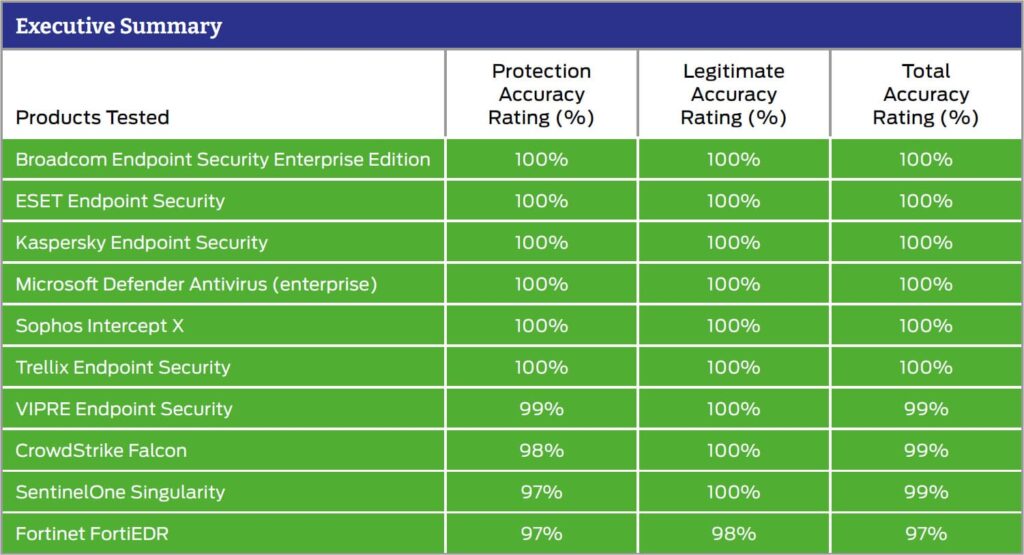 Ranking the Top Enterprise Endpoint Security Solutions
Based on SE Labs' Enterprise Protection Test from April to June 2023, these enterprise security suites proved most effective:
Sophos Intercept X earns the top spot for flawless protection and accuracy across the board. It correctly classified all legitimate software with no interaction. Sophos blocked 100% of malware and network attacks while allowing benign traffic and applications.
Sophos combines deep learning malware analysis with exploit prevention and anti-ransomware-specific features. Sophos Intercept X is an ideal endpoint solution for stopping modern attacks and securing day-to-day business activities.
2. ESET Endpoint Security
Matching Sophos' perfect results, ESET Endpoint Security blocked all of the test attacks with no compromises or false positives. It has robust ransomware shields and UEFI scanner to block advanced persistent threats.
ESET excels at proactive detection with machine learning algorithms that analyze suspicious code behavior. The lightweight agent has little impact on endpoint system resources.
3. Trellix Endpoint Security
The rebranded McAfee Endpoint Security provided flawless protection in SE Labs testing. Trellix uses real-time behavioral analytics to detect zero-day malware and insider threats.
Its XDR capabilities accelerate investigation and response with centralized visibility and threat hunting across endpoints and networks. Trellix is a suitable endpoint for organizations concerned about insider attack risks.
4. Kaspersky Endpoint Security
Kaspersky Endpoint Security only missed one threat but blocked the rest while maintaining perfect legitimate software scores. Notable features include virtualization-based isolation, endpoint detection and response (EDR), and automated detection of living-off-the-land attacks.
Kaspersky offers robust, advanced endpoint protection for enterprises dealing with technically sophisticated adversaries.
5. Microsoft Defender for Endpoint
With similar results as Kaspersky, Microsoft Defender blocked all but one attack while avoiding false positives. It integrates tightly with Microsoft 365 stacks running on Azure.
Behavior-based machine learning models rapidly flag anomalies and suspicious activities. Microsoft Defender is an obvious endpoint choice for enterprises invested in Microsoft ecosystems.
6. Broadcom Endpoint Security Enterprise Edition
The Broadcom Endpoint Security Suite sealed out the top products with 100% protection scores. It combines the technologies of Symantec and CA Technologies following Broadcom's acquisitions.
Advanced features consist of application isolation, memory exploit prevention, and script-based attack detection. Broadcom makes for a robust endpoint for Fortune 1000 firms.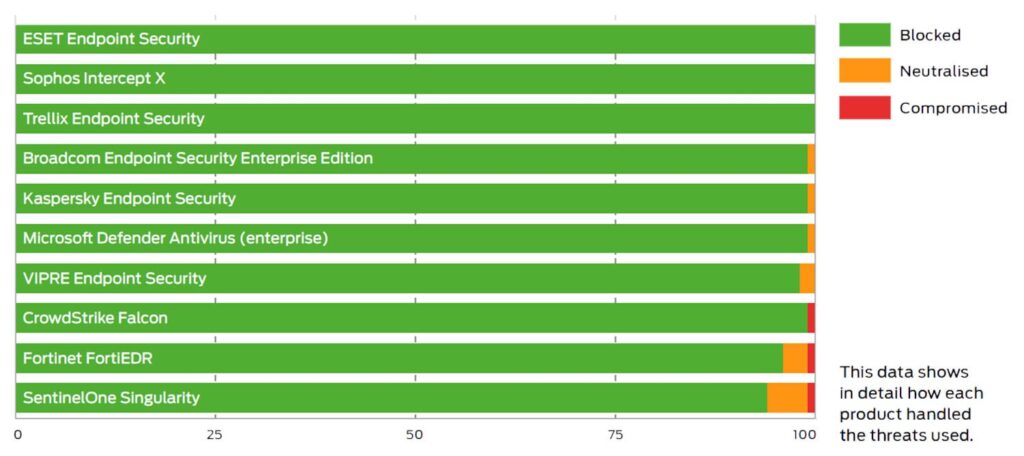 While they fell slightly short of top marks, these enterprise endpoints still posted stellar results:
VIPRE Endpoint Security – With 99% protection and accuracy, VIPRE is still a great choice. False positives are rare, and it blocked all common threats.
CrowdStrike Falcon – Falcon missed one targeted attack but still achieved 98% protection and 100% legitimate software scores. Its intelligent EDR excels at rapid threat response.
SentinelOne Singularity – Singularity allowed one more targeted attack than CrowdStrike but remains a powerful contender with 99% protection. It has leading XDR and autonomous response capabilities.
Fortinet FortiEDR – Though it missed more common threats than other products, FortiEDR blocked all targeted attacks for a respectable 97% protection rate.
Key Criteria for Evaluating Enterprise Endpoint Security
Based on the results from hundreds of hours of hands-on testing, these are the most important criteria for selecting an enterprise endpoint security solution:
Threat prevention – The product must block the vast majority of malware, exploits, ransomware, and targeted attacks. Allowing just one threat could lead to a disastrous breach.
Detection capabilities – Since determined attackers may evade initial detection, the product must detect malicious behavior after infection occurs to prevent loss of data or system control.
Low false positives – False malware detections frustrate users and IT teams. Accuracy with few false flags instills confidence in the software.
Light system impact – Endpoint software that slows down systems creates a poor user experience. Products should be lightweight and optimized.
Rapid threat response – When prevention fails, every second counts in neutralizing active attacks. Automatic response acceleration is ideal.
Network effect – Integration with other security layers like firewalls improves visibility and allows coordinated incident response.
For the strongest enterprise endpoint protection, prioritize solutions that pass independent tests on these criteria while meeting an organization's specific security requirements.
Summarizing the Best Enterprise Endpoint Security & Protection
In SE Labs' intensive test, solutions like Sophos Intercept X, ESET Endpoint Security, and Trellix Endpoint Security demonstrated why they are top choices of security-focused enterprises. Attackers relentlessly target endpoints with social engineering, malware, and exploits.
Only robust, layered enterprise security can protect assets from compromise. As a last line of defense on endpoints, the security suites above combine anomaly-based threat detection, anti-exploit technologies, behavioral analysis, and more. With minimal false positives, they enable employees to productively use endpoints without undue interference.
To confidently stop modern attackers in their tracks, these leading enterprise endpoints exceeded in SE Labs' unbiased, real-world evaluation of security effectiveness. Organizations that select one of these validated solutions gain peace of mind that endpoints will resist the sophisticated attacks that inevitably slip past perimeter defenses.